RECENT POSTS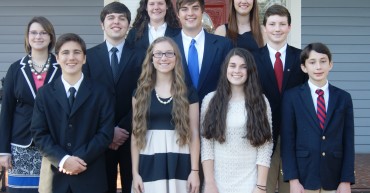 Vidalia Heritage Academy Students Learn Chess
Students from Kindergarten through 8th grade will begin learning how to play Chess in an ongoing effort to educate each student not only in the core subjects, but also in other non-conventional ways.
Varsity runners qualify for GICAA State
At the GICAA Region Meet in Colonial Hills in Douglasville, Georgia, Jack Palmer and Tristan Read qualified to run at the State Meet at the Georgia Industrial Children's Home in Macon
CENTER ACHIEVEMENTS
Here you can review some statistics about our Education Center
A Christian Environment
We wanted a school that reflected our Christian standards as well as our educational goals for our children. I wanted a school whose staff also adhered to those same standards. I wanted "Christian" to permeate our children daily through every aspect of their education and I feel that VHA does that! ~Tracy Sikes~
Why We Chose VHA!
VHA has been one of the best investments we have chosen to make in our boys lives. We chose Heritage because it wasn't a school that just has a Christian "label," but a school that truly invests spiritually into our children's lives within every aspect of the classroom. Heritage strives for excellence in academics as well as simply coming alongside us parents in molding our boys to be men of God. ~Molly Spivey~

Darth Vader
Dark lord of the Sith
VHA rocks, and btw, Luke, I am your father.

Dan Auerbach
Professional Everything
VHA is the bees knees. And bees don't even have knees. So… Yeah.
At Vidalia Heritage Academy, we believe it is important to be a part of a church fellowship. Listed below are email addresses of some of our local church affiliates.
connection-church.com/visit/vidalia
tabernaclevidalia.com/